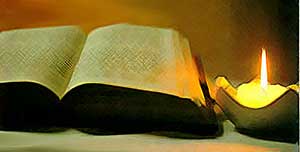 Lectio Divina
The tradition of reading the scriptures prayerfully to hear what the Spirit is saying to us, individually and corporately, is introduced simply at this page on
Lectio Divina
(Listening Prayer).
It is different from and complementary to the scholarly study of the scriptures.
Two people making love are not opposed to the scientific understanding of the biological processes,
similarly, the love we experience from God in God's Word to us encountered in Lectio Divina is not opposed to careful exegesis.
This site suggests the primary focus of Lectio Divina be the Sunday readings - particularly the Gospel reading.
Lectionary readings introductions
This site provides something different: many sites and books provide a brief summary of the reading - so that people read out or have in their pew sheet an outline of what they are about to hear. They are told beforehand what to expect. Does this not limit what they hear the Spirit address them? This site provides something different - often one cannot appreciate what is being read because there is no context provided. This site provides the context, the frame of the reading about to be heard. It could be used as an introduction, printed on a pew sheet (acknowledged, of course), or adapted in other ways. This is an experimental venture and I will see how useful it appears.
This experiment has been quite successful. It is being expanded by providing an opportunity to add to the reflections.
Please join us with your
Lectionary Reflections
.