Want to encourage placing WORSHIP FIRST?
The Bible places worship and prayer FIRST (Revelation 5:9-14; 2 Samuel 6:12-14; 1 Corinthians 14:26; Ephesians 5:18b-19a; Colossians 3:16; James 5:13; etc.)
Whenever there is a significant decision or turning point in Jesus' life, the Bible shows Jesus turns to God in prayer (at his baptism Luke 3:21; after his baptism Matthew 4:1-11; all night before choosing his apostles Luke 6:12-13; before suffering on the cross Luke 22:42; ...)
Are we, as individuals, as communities, following the biblical examples and teachings to place prayer and worship FIRST?
If you run a blog or website - and/or know of others who do, one way of encouraging WORSHIP FIRST (alongside living it!) is to add this badge to your blog sidebar or to your website: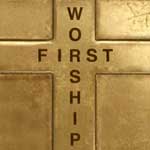 by copying the following HTML code and putting it on your website or sidebar:
Any problems with size, or any other issues, please contact me (email address bottom of this and every page).